The Left Wing Liberal Literary Set came last night for a workshop.  All very good I hear you say and how small minded of me,
" to mind!" 
Yeah Yeah.  The thing is I have often found these  " type"  ( again,I know I am paraphrasing) of Peeps to be somewhat dire on so many counts and last night they didn't disappoint me.  In fact so Gung Ho, were they,  I rather felt they were assembling for another Rally down at Greenham Common.  
Having settled down beside the fire at 1805hrs ( so sun well and truly beyond the yard arm ) with a rather stiff G & T ( even by my standards) I thought I could have a pleasant thirty mins reading about Dietrich Bonhoeffer,
as you do                   .
Having just read the Introduction and worked out where and who this guy was, along they came.  Now I don't want to be the Party Pooper or even the Tory Agent Provocateur  but really I knew it was going to end badly when they sort of fell into the room and tried to save the wine bottles.  Even I have been known to swig out of the bottle on certain occasions but never in a Library and certainly not in Gladstone's!
I know you hate it when I type cast but I am going to have to if, for no other reason than not to disappoint you and to confirm that these people really do exist.  So once they had worked out that there weren't enough seats in the window ( for them!) and the sofa in front of the fireplace would have to be carried over peoples heads ( and yes, one of them was mine!) they all took out their knitting; manuscripts or Kindles and "BONDED!" 
OMG don't you hate that word?  No? Heavens its up there with " Going Forward" and
" Crunching Numbers". 
Anyway I could see they were bonding and listening with awe to the Tutors and it was, frankly, making me sick.  I don't do adoration for anyone and don't understand this fascination that woman ( and on this occasion, some men) have for Workshop Tutors who seem to have only had one flaky paperwork , self published, and probably never left the world of Academia.  One attendee looked positively spell bound.  For heavens sake!
As the night wore on, the poor ordinary peeps who were seated near to them hadgiven up the ghost and left for the night and of course as the night wore on further, they consumed more red wine and got louder and louder.  Now you may say I was on the outside looking in and in this case I was more than grateful, but by the time the dinner gong had rung I was more than ready to line them up against the front wall and shoot the bastards down.  However Lovely Man had told me I was to behave whilst away and not speak my mind or generally be contentious.  I zipped my lip and ate my dinner.
Currently I am staying in the bedroom of Dietrich Bonhoeffer and so I felt I should read about him.  It was of course back to the usual Jewish/German/Nazi theme of my "regression course" and so I felt as always it was a sign!  Its a sign… and so I took to Google and the Library to read more about him.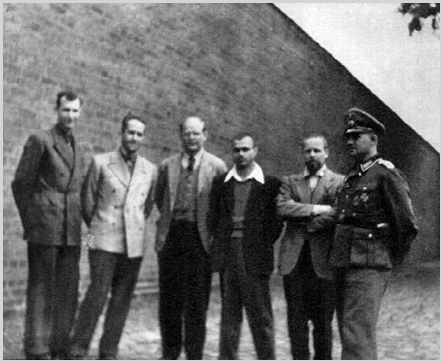 Sadly having got more and more annoyed over the Socialist Set in the reading Room I didn't manage a lot that night, but it does seem to be a theme I cant leave.    And then, this morning, talking about my  Jewish themes, I got a call from the Rabbi…….
He wasn't very pleased and asked me if I could  "hot foot it over to the Synagogue"  ( yes, he does speak like that ) .  Usually he is a pretty laid back guy so I was rather at a loss as to the problem. I was also, as you may recall, currently holed up in the depths of Wales contemplating Life and other deep matters.   I thought I could get Vicki to go over there and see what the problem was but for her, being a Catholic, I am not sure she will feel she can go into the Synagogue without doing a good few Hail Marys on the following Sunday.    The traffic getting there was not ideal and I know Vicki only has a window of 10am to 4pm each day in heavy traffic.  I really didn't want to get into any sort of conflict with the Rabbi and said I would send someone over straight away and Vicki was still prevaricating. Hving no option now but to call Lovely Man ( LM) who I knew was out on the Golf Course whilst I was away, I took a deep breath and left the message.  .
Now Lovely Man is not always a Lovely Man and whilst these occasions are few and far between, I am able to limit them by not contacting him when;
1  he is on the Golf Course
2   he is watching Arsenal
3    he is playing Poker
4    he is watching Golf
5    he is watching Poker
6   he is reading his book on the Toilet
Anyway having worked out that I would prefer to incur the wrath of Lovely Many rather than the Rabbi I asked if he would drop his Clubs, pause the game and head over to the Synagogue.  I heard a lot of sucking of teeth and followed by silence.  Not one of my better choices I fear !!  I whispered " don't worry" and thought again.
So on to my third choice of who to send to the Rabbi and having come up with no one it was back to Vicki.  I pleaded and bargained with her and eventually she said she would go in provided she could wear a headscarf  ( she wanted to be incognito!) and I didn't tell anyone. 
       She also said she would not prevail upon the free parking in the " Parking for Visitors to the Synagogue" Car Park, but use the Pay and Display and walk for fifteen minutes.  Honestly, you couldn't make it up.    An hour or so later I got a message from Vicki that the Rabbi was indeed truly hacked off because one of our teachers had ignored the " No food in the Synagogue" rule and brought some in.  I asked her what the food was and she was a little vague.  It turned out what whilst Mrs Rabbi was emptying the bins at the end of the day she had come across an offending article hidden under some paper.  Being somewhat nosy she dislodged the paper and found…. to her horror…. a  POT NOODLE and an empty one at that>
She was further told that in the Pot Noodle was one of the banned substances and if our teachers couldn't take it seriously, then who could?  I quite agree…..
Now I think that we all know that the amount of real meat or fish in any Pot Noodle is going to be called " trace elements" (allegedly) so although one could say that it was a "storm in a N0odle Pot" I do see his point.    I also know that one of our teachers is rather fond of this in his break time and I am going to have to take same Teacher to task.   In the meantime, Vicki adjusted her headscarf; lowered her eyes and dropped to her knees. " I do apologise Father".   Having taken the Rabbi's hand and kissed it, before asking for forgiveness, I reckoned she got a little confused and thought it was an audience with the Pope.  The Rabbi, however, being a rather " with it" guy, merely lifted her to her feet and Shallomed her out of the Building.  
Any more sausage rolls anyone???